Continuing education
Professional development: a top priority
As professionals, it is our responsibility to further our education and keep our skills and knowledge up to date. Professional development is also a powerful tool for those just starting out in a new field or those who simply wish to diversify their service offering.
To meet the needs of language professionals, OTTIAQ offers a program of training courses structured around four educational pillars:
Professional practices and management, which covers the regulatory aspects of the profession and various aspects of business management and client relations.
Linguistic development and translation, which includes training on syntactic and stylistic issues and language transfer issues. 
Tools and expertise, which consists of training and conferences on the expertise inherent to each of the main language professions, as well as on relevant new technologies.
Areas of expertise, which includes basic and more in-depth training on concepts and terminology specific to the most common areas of expertise in the industry.
The majority of our training courses will be available online for one month, beginning seven days after the date of the webinar. Participants who attend a webinar will have free access to its recording. For those interested, registration will open on the date that the course goes online.
New for OTTIAQ members!
After each training course that OTTIAQ members complete, they will receive a seal* that they may use as a promotional tool in all subsequent communications.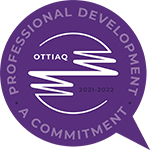 *Seals are reserved for members of the Ordre des traducteurs, terminologues et interprètes agréés du Québec
For specific requests, please contact us at formation@ottiaq.org.