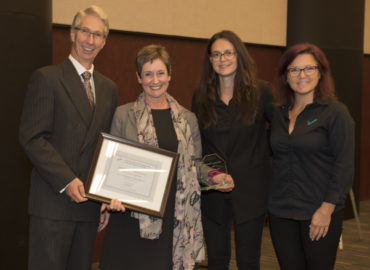 OTTIAQ JOSEPH LARIVIÈRE AWARD OF MERIT
Presented at the OTTIAQ annual conference
This award, created in memory of the founder of the Société des traducteurs du Québec, honours extraordinary or lifetime achievements in the language professions.
The Order wished to innovate by extending this honorary distinction to members and non-members alike. Offering this award raises the Order's public profile and helps cultivate the image of language activities outside its own sphere.
ELIGIBILITY CRITERIA
Member or non-member of OTTIAQ
Practises various language professions
Practises in diverse fields related directly to the various fields of their profession (technology, teaching, management, research, etc.)
Numerous substantial achievements with significant impact
SUPPORTING DOCUMENTS 
Letter of nomination
Summary of relevant achievements
Letters of recommendation (maximum three)
Send nominations to: jtrudel@ottiaq.org
NOT ELIGIBLE
Members of the Board of Directors
Members of the Awards Committee
Nomination deadline: April 1
Note: All OTTIAQ members, except for members of the Awards Committee, may personally submit a nomination.
Award presentation: OTTIAQ Annual Conference in Montréal
Example of a nomination file (PDF)
The recipient of the 2019 OTTIAQ Joseph LaRivière Award of Merit was Suzanne Villeneuve, Certified Interpreter.
View the list of recipients.
Learn more